Seminars for teachers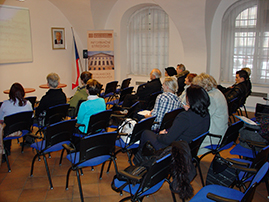 Teachers of civic education, history and other social sciences, in particular, are given an opportunity to participate in full day seminars called "The Czech Parliament and Parliamentarism" and "150 Years of Traditions of Modern Parliaments in the Czech Lands", organized directly at the premises of the Chamber of Deputies and aimed to provide a comprehensive overview of information on the Czech constitutional system, the status and functions of the Parliament, the fundamentals of parliamentary procedures and their implementation, the electoral system and other related issues.
Following frequent requests made by teachers for expansion of certain specific topics, the Communication and Education Division also organizes thematic seminars aimed at current issues and problems.
The seminars include a detailed tour of the Chamber of Deputies' buildings. Participation in the seminars is free. For capacity reasons, each seminar may be only attended by two teachers from the same school.